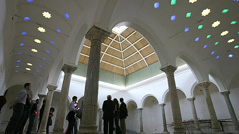 They are located in the middle of San Vicente neighbourhood, between calle Baños and calle Miguel Cid, next to Dulce Nombre de Jesús Chapel, belonging to Vera Cruz Brotherhood, co-owner of these hammams (arab baths).
These baths suffered excavations to delimitate the monumental ensemble in 1983 and 1984, but today they are already restored.
The Vera Cruz Brotherhood, achieved that the Baños de la Reina Mora were recuperated for Seville, thanks to the Junta of Andalucía and the Town Hall of Seville. Now it is restored you can assist to an evening of classical and chamber music and it can be culturally visited for three days a week.