Description of the visit
Private Tour to the Maria Luisa Park, Pavilions of the Expo 1929 and Archeological Museum
This is a walking Private Tour. You will visit the most beautiful parts of the city. The Old Royal Tobacco Factory, the Archeological Museum, the Maria Luisa Park, and the spectacular Plaza de España.
As this is a private tour, you pay for the service itself not per person, so thirty people would pay like one.
Details of the visit
Observations to consider
The meeting point will be fixed later.

Recomendamos Oficina de Turismo Plaza de S. Fco. (Edificio Laredo).
Transportation and tickets are not included in this type of tour.
Museum entrance fee: 1,5 € (europeans citizenns free)
For this type of monument it is not necessary to book the tickets in advance, they will be bought the same day, at the tickets office. 
Opening times: SUNDAYS and Holidays from 9.00 to 14.30 hours; Mondays closed; Tuesdays to Saturdays : from 9.00 h to 20.30 h.
The reserve is not sent 48 hours in advance will not be processed.
Buy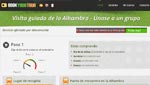 Book your visit to Maria Luisa Park in our booking web system. For addresses beginning with HTTPS all information sent to this site, is encrypted and protected against disclosure to third parties. This also guarantees the integrity of the data being sent over the Net.