Description of the visit

Visita privada to the Bullring, Charity Hospital y Barrio del Arenal.
This is a Private walking tour, in this tour we will show you the Real Maestranza one of the oldiest bullring of Spain, and with the one of Madrid the most important of the country. We will vist the bullfighting museum, knowing more about the history of tauromachy; then we will go to the Charity Hospital where we will admire the barroque sevillian style, an finally we will take a walk in the historical quarter of the Arenal, where the most important writers of XVI th century where inspired (Cervantes and Lope de Vega), and moreover in this quarter we will find the best tapas bars of the city.
As this is a private tour, you pay for the service itself not per person, so thirty people would pay like one.
Details of the visit
Observations to consider
The meeting point will be fixed later.

Recomendamos Tower of Gold u Oficina de Turismo Avenida de la Constitución.
Transportation and tickets are not included in this type of tour.
Entrance fee: Bullring 8 € and Charity Hospital 6 €.


The reserve is not sent 48 hours in advance will not be processed.
Buy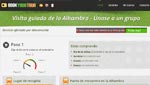 Book your Visit to the Bullring in our booking web system. For addresses beginning with HTTPS all information sent to this site, is encrypted and protected against disclosure to third parties. This also guarantees the integrity of the data being sent over the Net.