Description of the visit

Private visit to the Fine Arts Museum and Surroundings
This is a private walking tour thar will take three hours approximately, visiting the second most important art gallery of Spain, we will also show you the quarters of Sevilla, where we will enjoy the magnificent plateresque architecture of the City hall (from XVI th century), the Charter House (from XV th century), and we will go to the other side of the Guadalquivir river to Sierpes street, where Miguel de Cervantes start writting EL QUIJOTE.
As this is a private tour, you pay for the service itself not per person, so thirty people would pay like one.
Details of the visit
Observations to consider
The meeting point will be fixed later.

Recomendamos Oficina de Turismo Plaza de S. Fco. (Edificio Laredo).
Transportation and tickets are not included in this type of tour.
Fine Arts Museum.
For this type of monument it is not necessary to book the tickets in advance, they will be bought the same day, at the tickets office. 
Entrance fees: 1,5 €; (citizens EU free).
Openig times:


MONDAYS Closed;
Tuesdays to Saturdays: from 9.00 a.m. to 20.30 p.m.
Openig times: SUNDAYS from 9.00 a.m. to 14.30 p.m..;

The reserve is not sent 48 hours in advance will not be processed.
Buy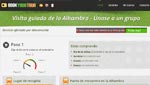 Book your Visit to Fine Arts Museum in our booking web system. For addresses beginning with HTTPS all information sent to this site, is encrypted and protected against disclosure to third parties. This also guarantees the integrity of the data being sent over the Net.