Description of the visit

Educational walking tour to the Reales Alcázares, Quartier Santa Cruz and the Cathedral.
In case you want your students know more about the city center and its history we offer your this tour, including the Reales Alcázares (the oldiest european palace), the Jewish quarter, the Gothic Catedral, finishing the tour going up to the top of the tower, La Giralda (old minaret).
The educational tour will be adapted to the level of the students, which will be given by guide-educators.
Details of the visit
Observations to consider
The Reales Alcázares de Sevilla have implemented the mandatory use of hearing aids to avoid noise pollution. Use is mandatory for groups of 11 or more people.
The Reales Alcázares. FREE Tickets for students: All Teaching Centers may request free admission. The request for free must be made one month in advance, sending a FAX to the number 954 502068, where they must indicate: day of the visit, time, number of students, name and number of teachers, as well as number of the center's fax. Telephone Information: 00 34 954 50 23 23
The Cathedral. FREE OR REDUCED tickets for students: The Spanish teaching centers may request free admission, the rest of the EU countries' centers may only request a reduction (€ 1.50 per student). You must request free or reduced by phone at 954 214971 from 1:00 pm to 2:00 pm, giving the following information: Day of the visit, time, number of students, number and name of teachers and fax number to send the authorization of gratuity or reduction.
Timetable: The Cathedral: On Sundays it does not open until 2:30 p.m. H. In these cases the visit will have to adapt to the schedules of the monuments and in the case of being closed during the desired time or day will be replaced by an alternative monument to the client's choice and accessible on foot. The explanations of the guide will be adapted to the educational level of the group, so it is important to indicate the course of the group.
Buy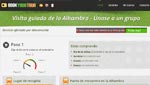 Book your Educational tour to the Cathedral in our booking web system. For addresses beginning with HTTPS all information sent to this site, is encrypted and protected against disclosure to third parties. This also guarantees the integrity of the data being sent over the Net.