Description of the visit

Private guided tour to the Reales Alcázares, Quartier Santa Cruz and the Cathedral.
If you are looking for a different way to visit the city, take this option, you will have a personal and private tour, we will show you this monumental city with the Reales Alcázares (the oldiest europen Palace), the Sevilla Jewish Quarter, and the largest Gothic Cathedral, third of the Cristianity, and if you want you can finish the tour going up to the Giralda (old minaret).
As this is a private tour, you pay for the service itself not per person, so thirty people would pay like one.
*The visit to the Cathedral will be replaced by Pilato's house on Sundays.
Details of the visit
Observations to consider
The meeting point will be fixed later.

We propose Tower of Gold, Oficina de Turismo Avenida de la Constitución, or Puerta del León de los Reales Alcázares.
The Cathedral:  Sundays closed until 14:30 H.
En estos casos la visita habrá de adaptarse a los horarios de los Monuments y en el caso de estar cerrados durante el horario o día deseados se sustituirán por un monumento alternativo a elección del cliente y accesible a pie.

The reserve is not sent 48 hours in advance will not be processed.
Buy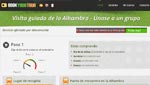 Book your Private visit to the Cathedral in our booking web system. For addresses beginning with HTTPS all information sent to this site, is encrypted and protected against disclosure to third parties. This also guarantees the integrity of the data being sent over the Net.