Holy Week
It is a celebration that has its origin in the XVIth century. It is when the scenes of the life and death ofJesus Christ are represented in the streets to the surprise of onlookers. Since this date theya are popular manifestations of religiousness.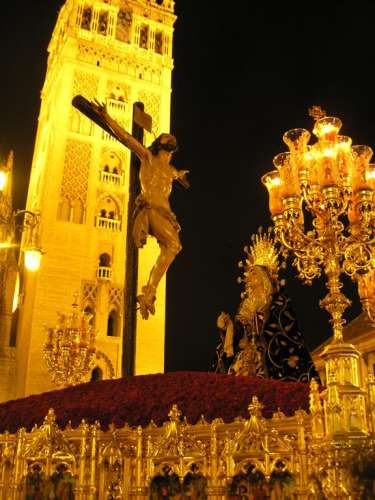 These brotherhoods have as their main aim the Divine Cult of our lord Jesus Christ and his mother the Virgin Mary, as well as the personal and collective promotion of the teaching of the Holy Mother Church. There are other activities of the Apostolate, such as iniciatives for Evangelisation, charity work, and animation with christian spirit.
They have their origins in the old guilds or lay associations, workers whose religious vocation was centered upon the same religious figure directed and promoted by some individual citizen or by, in some cases, a monk, priest or the parish priest of the place where the brotherhood first began.Their intention was to contemplate and imitate the passion and death of Christ by penitential acts, such as pain, affliction and penance. For example, there are associationsthat include bakers, slaves, catalan clothes merchants, horsemen, wagoneers, clergymen, the military, etc.
In Seville there are more than 50 brotherhoods that carry in procession more than 100 religious images..
They begin Palm Sunday (Domingo de Ramos) at noon with the departure of the Borriquita (the Donkey), performed in its majority by infants, to whom are added other brotherhoods that one, two, or three religious images (pasos) carried by the image bearers, in an organized procession and subject to specific shedules to enact the "stations of the cross" in the cathedral.Each day at noon the various brotherhoodsgo forth in penitance, each one represents different scenes from the Passion and Death of Christ until the dawn of Resurrection Sunday in which just one brotherhood marches past and who carry an image that represents the Resurrection of Jesus Christ and the Virgin of the Aurora, which is the finishing touc to this long and intense week.
During this week and in the morning the temples are visited where the brotherhoods are located that go forth in the afternoon and on Holy Thursday the Sagrario Shrines are visited, also attending the Holy offices. The women wear "mantillas" (lace head scarves, usually black) attend (a miserere), listen to"saetas"... the streets are jammed with people, there are processional marches while the brotherhoods carry the religious images making the stations of the cross in the Santa iglesia Cathedral.
Nowadays in Seville the church and the Easter brotherhoods develope a spiritual, social, beneficial function of cultural charity and throughout the year.