Description of the visit

Join a Group and visit Gibraltar, Punta de Europa y Cuevas de San Miguel, including: Local Guide, Ticket and Transport.
The excursion of Gibraltar is composed by an original visit led by our drivers and our totally qualified professionals guides who are going to bring you to the most characteristic places with astonishing views, all in the comfort of our air-conditioned buses. You will be conducted through typical Mediterranean streets, where you will discover all the mysteries of the famous rock, meanwhile seeing the magnificent Arab, Spanish and Victorian buildings that make Gibraltar a magic city.
The first stop will be at the southernmost point of the so-called "Europe end" city, where you could admire the lighthouse coloured with English Trinity house colours, placed at 49 metres above the sea level.
In a light day from "Europe end" you will be able to see the African continent, which is situated at just 24 km at the south of Gibraltar. Gibraltar strait is the sea that divides both continents of Europe and Africa, and it's the place where the Atlantic Ocean from the West encounters the Mediterranean Sea at the East, too.
From "Europe end" city you will be able to see the highest point of the rock, O'Hara's battery, where you could still see a cannon that controls the highest point of the crag.
After a short sightseeing around the "Europe end" city, we will go back to our bus in which we will continue our visit to our next stop, Saint Michael's cave, almost placed at the chasm of the rock, situated at 350 metres above the sea level.
The cave is one of over 150 natural caves that you can find inside the rock, and from the first moment you will step on inside it, you will see amazing worth seeing stalactites and stalagmites. Moreover you will have the chance to take photos of them; usually in caves isn't allowed to take photo, but in Gibraltar you wouldn't have no problem in doing this.
After visiting Saint Michael's cave, we will continue our journey to our next stop, the enclosure of the famous local monkeys, the Barbary macaques. You will have the chance to walk aside to these monkeys, as they are totally free to go around the rock. These monkeys are very photogenic, and, although they are used to stay near people, please be careful, because they could bite, as they are wild anyway. For this reason please do not touch or feed them (it is forbidden to feed the animals), thank you.
Our next stop would be the historic district "Casemates", where the visit would end and you could enjoy your free time in the main streets.
* It's necessary to carg the original passport to take this tour.
Details of the visit
Price per visit

: 130 € per person (All prices are VAT included). Children prices: 0-5 years 30€ / 6-11 years 50% Discount.

Include:

Transport by air-conditioned coach.
Local Guide.
Ticket monuments (Punta de Europa and Cuevas de San Miguel).
Hotel pickup and drop-off.
Guide languages: Spanish, English and French.

Departure:

Monday (Except 25th of December & 1st of January).

Pick up point:

Pick-up at your hotel in Seville city between or meeting point assigned by the agency.

Pick up time:

8:00 am - 8:45 am.

Guided tour by the Seville Official Guides:

members of APIT (Local Association of Professional Guides).

Timming:

11 hour approx.

Payment (Secure Paymet):

In advance, by bank transfer or credit card (except American Express).
Observations to consider
The reserve is not sent 48 hours in advance will not be processed.
Tour group size: 30 people max.
Departure Point & Time: Pick-up at your hotel in Seville city center between or meeting point assigned by the agency 08:00 am & 08:45 am.
Buy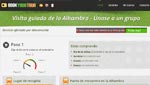 Book your Private visit to the Cathedral in our booking web system. For addresses beginning with HTTPS all information sent to this site, is encrypted and protected against disclosure to third parties. This also guarantees the integrity of the data being sent over the Net.