Description of the visit
Join a Group and enjoy a guide tour of the Cathedral of Seville and Real Alcazar.
The Seville Cathedral is the largest Gothic cathedral and the third-largest church in the world. It is also th elargest cathedral in the world. It was registred in 1987 by Unesco as a World Heritage Site, along with the Alcázar palace complex and the General Archive of the Indies. The cathedral is also the burial site of Christopher Columbus.
The Alcazar of Seville is a royal palace in Seville, originally a Moorish fort. The palace is renowned as one of the most beatigul in Spain. The upper levels of the Alcazar are still used by de royal family the official Seville residence and are administered by the National Heritage. It is the oldest royal palace still in use in Europe, and it was registered in 1987 by Unesco as a World Heritage Site.
*The visit to the Cathedral will be replaced by another monument on Sundays and public holidays.
Details of the visit
Price per visit

: 59€ per person (All prices are VAT included). Children prices: 0-5 years Free / 6-11 years 50% Discount.

Include:

Ticket to monuments (Cathedral of Seville and Real Alcazar)
Local Guide.

Departure:

From Monday to Saturday (Except 25th of December & 1st of January).

Pick up point:

Plaza de los Refinadores.

Pick up time:

10:45 am.

Guided tour by the Seville Official Guides:

members of APIT (Local Association of Professional Guides).

Timming:

3 hour approx.
Observations to consider
The reserve is not sent 48 hours in advance will not be processed.
Tour group size: 30 people max.
Buy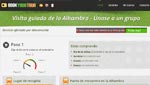 Book your Private visit to the Cathedral in our booking web system. For addresses beginning with HTTPS all information sent to this site, is encrypted and protected against disclosure to third parties. This also guarantees the integrity of the data being sent over the Net.