Demography of Seville
The municipality of Seville has 699,145 inhabitants according to the population census of 2007 of the NSI, being the fourth city of Spain with more population, below Madrid, Barcelona and Valencia. The metropolitan area of Seville has 1.450.214 inhabitants and 4,535, 78 km ² of surface, being also the fourth metropolitan area of Spain and a great tourist, economic center, industrial and population.
From 1990 the resident population in Seville has descended a little, due mainly to the exodus of young couples to cities and villages of the Metropolitan Area, where house prices are more reasonable, and where there is a better job expectation. The population of the city is very aged, and perhaps the reduction of population will be higher in the next years. The population of foreigners registered in Seville in 2005, was of 21,041 people coming from the following countries: Ecuador (2.903), Morocco (2.736), Colombia (2.022), Argentina (789), the United States (569), France (539), Other countries (11.474).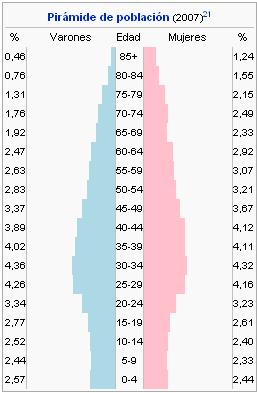 Demography Evolution

| | | | |
| --- | --- | --- | --- |
| 1842 | 100.498 | 1992 | 683.028 |
| 1857 | 112.529 | 1993 | 707.438 |
| 1860 | 118.298 | 1994 | 714.148 |
| 1877 | 133.247 | 1995 | 719.588 |
| 1887 | 143.840 | 1996 | 696.487 |
| 1900 | 147.271 | 1998 | 701.927 |
| 1910 | 153.258 | 1999 | 701.116 |
| 1920 | 205.723 | 2000 | 700.520 |
| 1930 | 217.788 | 2001 | 702.520 |
| 1940 | 302.300 | 2002 | 704.114 |
| 1950 | 374138 | 2003 | 709.975 |
| 1960 | 441.869 | 2004 | 704.293 |
| 1970 | 545.692 | 2005 | 704.154 |
| 1981 | 645.817 | 2006 | 704.414 |
| 1991 | 683.028 | 2007 | 699.145 |